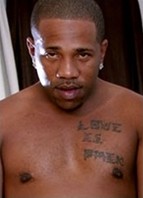 Shorty Mac
Alias: Haz, Haaz, Shorty Macc, Shorty Mack
About Shorty Mac
Height: 5 ft. 4 in.
From: Harlem, New York
Born: June 28
Zodiac Sign: Cancer
Some women enjoy being talked to during sex, and if you're having a romp with Shorty Mac, you'll get an ear and a snatch full. Eight inches of thickness on a 5'4" black bald stud is not surprisingly called a Mac Attack!
Mac is keeping himself extremely busy, 178 titles in the past seven years. This Harlem, New York native, AKA, Haz - as noted on his tatted upper right arm, gives a good pounding in many of his gang bang sessions, offering exceptional performances, complete with enjoyable commentary for both viewers and co-stars alike.
He tried his hand at directing in 2008 with the completion of one title. We would like to continue seeing Mac buried in a nice pink pussy instead of keeping his head behind the camera. Keep the cock pounding and we'll keep the hands pumping.
If Mac performs for studios such as Shane's World, Juicy Entertainment, Black Market Entertainment, Hustler Video, Combat Zone and West Coast Productions...what other studios will we see him appear with?